Before all the social dance events on Wednesdays, we offer introductory dance lessons. They are usually 30-minutes long and are taught by a teacher from the South Bend Latin Dance community or guest instructors. You don't need a partner, any past dance experience, or any coordination whatsoever to come to join the lesson. We take you AS IS and enjoy dancers at all levels of their dance journey. Our focus is on SOCIAL dancing–we like people because they're people, not because they're fabulous dancers. Lessons can help us have more fun and to that end, we offer them to you. Fun is what it's all about!
Bridget teaching an introductory class before the Wednesday social at LangLab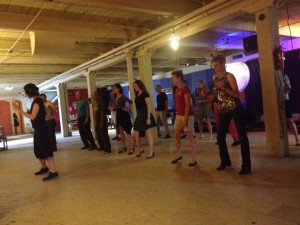 Mario teaching Bachata class before the Wednesday social

Outside of the pre-social dance classes, Mario teaches private lessons. The dances covered in his classes are Salsa, Merengue, Cumba, Bachata, and Cha-Cha.
If interested, contact him directly for more information (marios188 [at] yahoo.com).