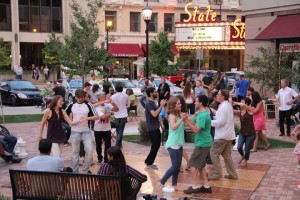 South Bend Latin Dance is a group of fun, talented and passionate Latin dancers who promote fun & lively social dancing opportunities in South Bend, Indiana and surrounding areas. We are most passionate about salsa, merengue, bachata, samba, and other Afro-Latin dances but also support other genres.

South Bend Latin Dance is a community blessed to have many members in organizing and teaching roles. David Seymour, a longtime local dance advocate, took the first steps (pun intended, because he's got some!) to establish our Wednesday Socials, which have seen incredible growth. He, Bridget Hardy, and Joel Barrett went on to establish South Bend Latin Dance, before David and Joel relocated to Kansas City. Other dancers pivotal to the progress of our group have come forward in a variety of ways–to teach, share music, organize events and sharpen the spirit of love and openness that defines our group.
We take pride in the diversity of people who keep us vibrant by dancing regularly, welcoming new folks into the community with warmth, and always being willing to create more opportunities for Latin Dance in South Bend as we evolve together.