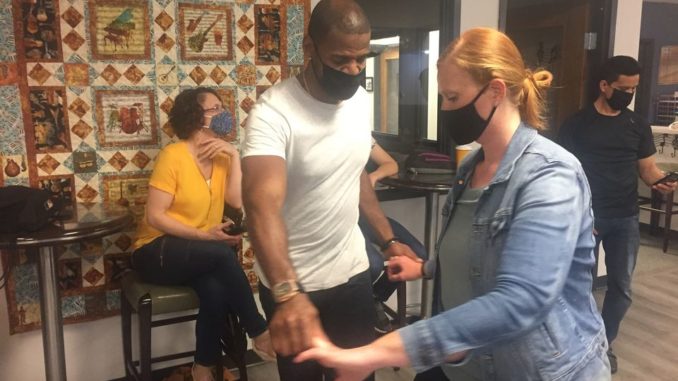 We did this in May and are doing it again!
It'll be great whether you came to the last one or not! Broaden your dance horizons! Classes in both Latin & Steppin' come together in this evening of instruction and practice…
7-7:50 PM: Latin Int/Adv
Combinations with Jon Green OR Salsa Basics with BridgetThese classes run concurrently, so pick your level and go to it! The Latin combinations class features moves that can be used in any dance genre, so you're getting tools for salsa, cha-cha and more.8-8:50 PM:Steppin': An Introduction (#2) for Everyone with Jon Green
Steppin' is an urban dance that originated in Chicago and continues to evolve nationwide and overseas. Accompanied by songs grounded in jazz, soul, and R & B music, learn or get reacquainted with the basics of this smooth social dance.
8:50-9:30 PM: Practice/Social Time
Meet folks and try out the moves. A little Latin, a little Steppin'—it's all good and all fun.
One price for all of this, so come to one class or two, pop in at the end, but for anyone doing anything, it's $20 in advance and $25 at the door—encouraging maximum participation, early commitment, and keeping it simple. Register here: https://www.eventbrite.com/e/158399666667
Jon Green is a special visiting instructor from Chicago. He's taught dance all over the country, and was a Stepper long before he became a Latin dance wonder. A percussionist, team player, and charmer, it's great to have him in the Bend.
Check him out showcasing Cha Cha in partnership here: https://www.facebook.com/jocelyn…/videos/888223554555285
Bridget Hardy is a local girl who coordinates South Bend Latin Dance. She's taught Latin Dance for close to a decade and seen thousands of self-proclaimed double left-footed folks learn to dance beautifully and actually enjoy doing it.