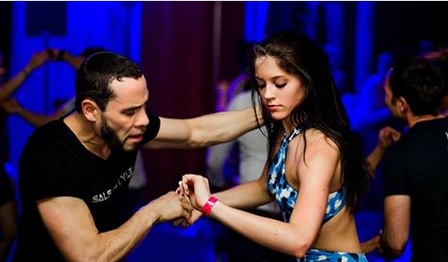 Learn how to better integrate your movement with the music though timing, an improved understanding of how to predict music changes, and more. All levels.
$15 until 1/27, $20 after, $25 at the door
José Serrano was born in Puerto Rico to dancer and musician parents. Before salsa, he was the principal dancer at the Columbia City Ballet for 10 of his 20 years with the company, and the deep knowledge of dance and precise skills he honed there inform his Latin dance today. He formed his first professional Latin Dance partnership after retiring from ballet, with his sister Charlotte, winning 14 Latin Dance championships in salsa and cabaret. His classes introduce elements of timing, styling, shines, body movement and original turn patterns for all levels.
Mayah Sandock, at just 16, is a testament to José's teaching and coaching along with her own unique talent (and perhaps growing up in South Bend, IN???). Mayah had just started taking dance lessons with her mom, a great friend to South Bend Latin Dance, Karen DeCocker, when she met Jose in Chicago at a local dance event. She's been dancing less than 2 years and was named a junior world champion in 2016! Her mom points to the wisdom that progress can be swift with the right dedication, a great thing for all dancers to keep in mind.
It's more than fabulous to have Mayah and Karen, not merely folks in the dance world of Chicago who somehow agreed to come to South Bend but OUR FRIENDS, making this happen. And huge kudos to José for his incredible generosity with our community. We are lucky beyond words.
Saturday, February 3 at 1 PM – 2:30 PM
Near Northwest Neighborhood, Inc.
1007 Portage Ave, South Bend, Indiana 46616