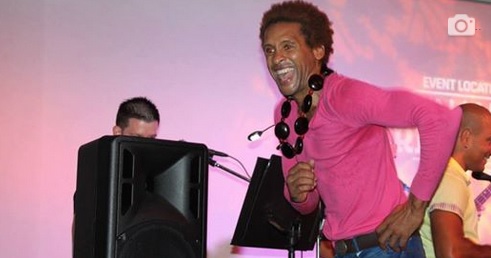 November 18 – 26
Alexis Hernandez is from Guareiras in Mantanzas, Cuba, the town where danzón and rumba were born. He grew up in a traditional Afro-Cuban family, thriving on the typical rhythm, music, and movement that went hand in hand with his upbringing. He views dancing as not just a hobby or art form, but a necessity for expression.
He went on to study dance and music in Cuba and Europe, and worked in theatre and dance performance groups, specializing in folkloric dance styles like Afro and Rumba Cubana along with popular genres like Salsa, Timba, Cha Cha, Mambo and more.
In Switzerland he founded and owned Salsón, a dance school. Recently he returned to Cuba and made his home in Havana with his wife, young son, and extended family. There the Hernandez family runs El Cimarron, a restaurant and community project that does everything from serve ropa vieja to exhibit art to work with neighborhood kids in dance and music programs.
Last month a group of folks from northern Indiana traveled to Cuba and were hosted by Alexis and his family, learning about Cuban culture, people, and feeling buoyed generally by the generosity and thoughtful approach to cultural preservation and education the Hernandez family embodies.
Alexis is coming to Indiana this month to raise awareness about Cuban culture, raise money for community projects in Havana, make new partnerships, and share his love of dance and people through meaningful interaction.
THE EVENTS:
We've've got workshops–Alexis Hernandez Visit: Afro-Cuban Movement Workshop and Alexis Hernandez Visit: Roots of Popular Cuban Dance Workshop–both on Saturday 11/18, along with a special Welcome Social that evening, Alexis Hernandez Visit: Bienvenida Party.
Come out for a post-Thanksgiving potluck and say farewell on Sunday(Alexis Hernandez Visit: RelaxGiving Potluck, Dance & Goodbye). And, of course, the Thanksgiving Latin Dance at Aloft with Alexis Hernandez 11/22, as well as a Fort Wayne appearance on Friday, 11/24.
Private lessons available through the week. So, in true estilo Cubano, we've got days of parties and visiting and LOVE. Disfrutalo!
Alexis is great: warm, enthusiastic, present and engaged in community-building in whatever community he finds himself–let's match his transmission of love and enjoy the magic.