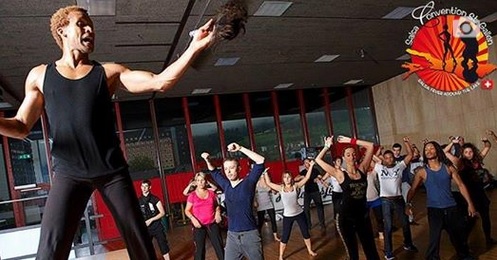 The smooth and rhythmic motion that makes dance more than "steps," allowing for whole-body participation and true musicality is found in the legacy of its Afro-Cuban origins. Learn about the history of this movement, practice it, and FEEL it.
Recommended contribution: $15-$60 (self-policed sliding fee). Pay at the door.
Alexis takes dancers "from the root to the fruit"–and believes that a true connection to where and how the dance started, both in your head and in your heart, makes you a better dancer and person.
Alexis Hernandez is from Guareiras in Mantanzas, Cuba, the town where danzón and rumba were born. He grew up in a traditional Afro-Cuban family, thriving on the typical rhythm, music, and movement that went hand in hand with his upbringing. He views dancing as not just a hobby or art form, but a necessity for expression. He went on to study dance and music in Cuba and Europe, and worked in theatre and dance performance groups, specializing in folkloric dance styles like Afro and Rumba Cubana along with popular genres like Salsa, Timba, Cha Cha, Mambo and more.
Alexis is in Indiana now raising awareness about Cuban culture, raising money for community projects in Havana, making new partnerships, and sharing his love of dance and people through meaningful interaction.
Saturday at 2 to 3:45 pm at Near Northwest Neighborhood Inc, 1007 Portage Ave, South Bend, IN 46616