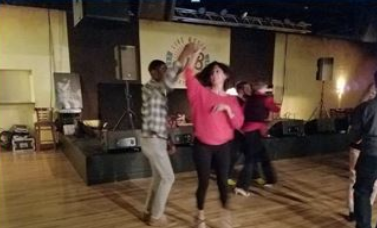 The turkey is thawing, the potatoes are sitting on the counter asking to be peeled and your relatives are invading……
Tell them you need to make a grocery run for sugar and head to downtown to steal a few dances with us the night before we give thanks for our lives, the ones we love, and eat…. A LOT.
Vegetable Buddies is in downtown South Bend, just north of the old Ciao's location. VB's has a full menu–so come early for dinner–and a cash bar.
PLUS Cinco 5 AFTERPARTY! Head around the corner afterward and keep the night going. Cinco 5 will continue with drinks and music…
Hosted by South Bend Latin Dance and Cinco 5
7:00-9:30pm – $5.00 cover
30 minute lesson at 7:00pm