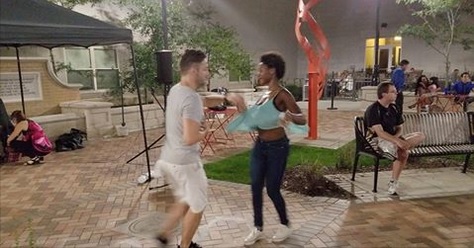 ***FINAL OUTDOOR FIRST FRIDAY DANCE OF 2016***
August has quickly passed and as schools make their way back into session, so does cooler weather come back to greet us. Come out and dance with us as we celebrate the end of a great summer of outdoor First Friday Dances provided by our gracious hosts from DTSB,
The dancing starts at 8:30 pm. with a beginner's lesson given by one of our great instructors. You can't miss us on the chess board at Studebaker Plaza, 112 W. Jefferson. $5 cover, all ages. Drinks available at the Whiskey Exchange adjacent.
NOTE: Due to the First Friday Dance on the Plaza there will be no dancing at Chicory Cafe on August 6. Catch us on July 20th back at Chicory Cafe, and thereafter we'll be moving to 3rd Saturdays only at Chicory.